Imagine yourself working in a beautiful location, at the lake, surrounded by mountains, no-one around you, just calm nature. Next day you pack your laptop and go further, to explore more of the places in the world that you've chosen for your workation. This is how our life looks right now - living in a campervan.
How we started our van life
Traveling has always been our big passion, something that gives us inspiration, the possibility to get to know new countries, people and culture, something that broadens our horizons. We're not the kind of people that can stay in one place for a long time. Inspired by travelers that we followed on Youtube, we started dreaming about living in a van and combining it with work, while driving around the world. Our everyday life looked quite normal - we were renting a flat, working till afternoon and doing all of the chores that, as adults, we all need to do. Monthly rent chained us to live in one place and didn't allow us to travel as much as we wanted to. More and more often, we thought about changing the way of our lives.
AppUnite was always open to remote work, even before Coronavirus. During the pandemic, some traveling possibilities were obviously closed, but this made caravaning even more popular. Flexible hours in such a lifestyle are also a must, but in our company, there is no problem with that. It encouraged us to get down to planning to buy a converted van, choose a dream destination and start our van life. After consulting our Team Leaders on the idea (fortunately they agreed and wished us luck), we became the owners of an 8-year old Fiat Ducato with almost everything we needed to live comfortably and work inside. After a few months of preparations, fixes and improvements, the campervan was ready to go, we fully moved in and set off.
Workation on the Road
Since then, we've been traveling for over two months, including a 2-week test journey in Poland. We visited Sweden, Norway and in the autumn we plan to go south to explore some Balkan countries and maybe get to Turkey. With such a lifestyle, every day is different, requires planning, includes lots of unknowns but also gives a lot of satisfaction. Wonderful views, hikes in nature, freedom to be wherever we want - that's what makes this an amazing journey.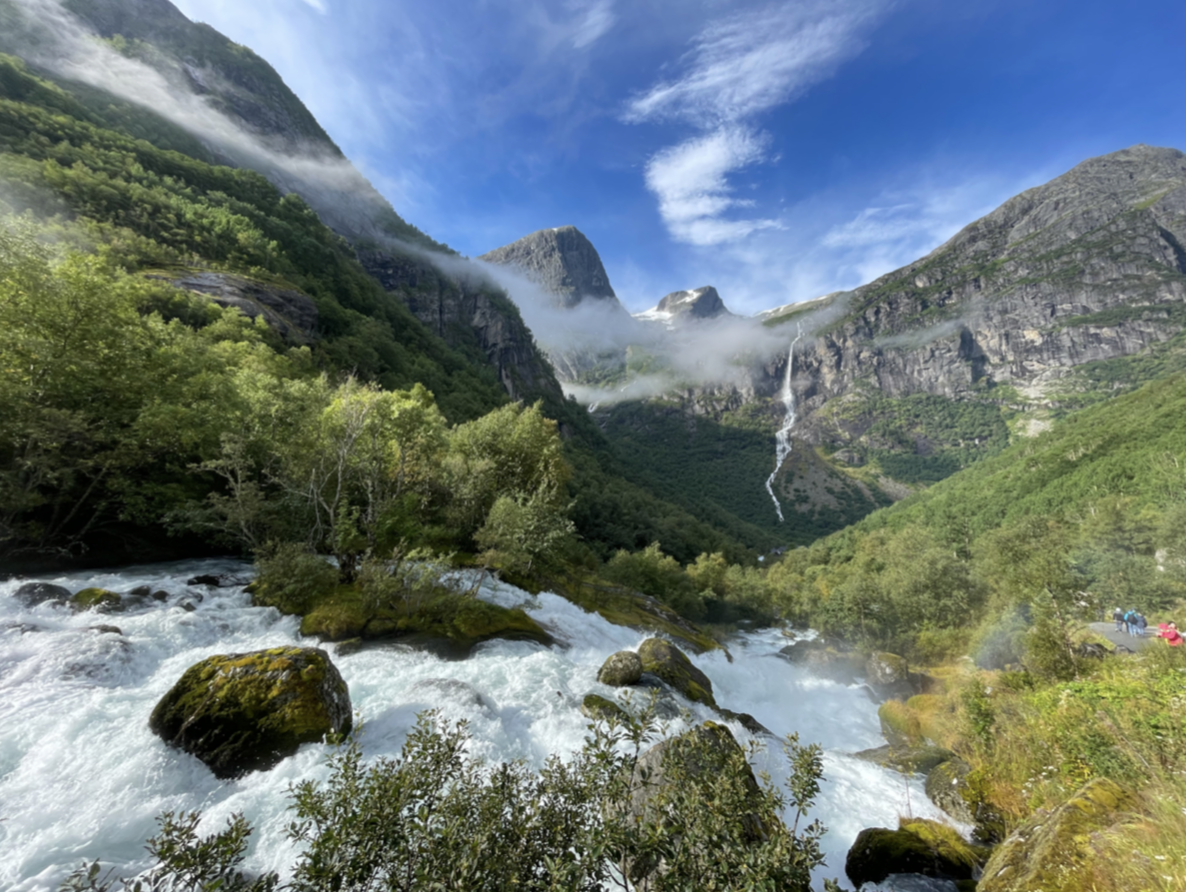 You're probably wondering how we find time and motivation to work in such a vacation atmosphere. The big benefit is that we're motivated to maintain our work-life balance because we want to see and experience more of the place that we're currently in. Being surrounded by nature all the time gives us a fresh mind, peace and quiet, which helps us to have energy and enthusiasm to do our jobs. On the other hand, it's not always sunshine and rainbows. We have also encountered some challenges related to work. Let us list the main ones and how we deal with them.
Challenges at work in van life
Changing Environment
Everyday we sleep and work in a different place. It's great that we have this option, but our brains like routine - organized space, the same activities every morning, established deep-work hours, etc. In van life, these rhythms can be disturbed by someone who comes and says that we can't stay where we've parked because it's a private area, or we run out of water reserves, or we find a place on uneven ground, so we need to search for another one because it's really hard to move or sit in a crooked van, trust me. These are just examples, but living abroad and having all of your home with you requires continuous planning, discipline and researching many things online.
As a solution, we try to form our own routines and be organized, so getting up early (around 7am), we start preparations for our remote work, catching up on Slack and e-mail inboxes, while consuming a wholesome breakfast and after our stand-up meetings, getting to our tasks for the day. Another important thing is getting enough sleep. After 8-hours work we still have some stuff to do and it all takes time: servicing the camper, cleaning, making a short tour around the place we are staying at, searching for and driving to a new location and planning the next day. It cannot be done without energy that our bodies get from sleeping. After a few weeks on the road, we've got used to this and accepted that there are many things that we should think of and check during our journey to make it even more enjoyable.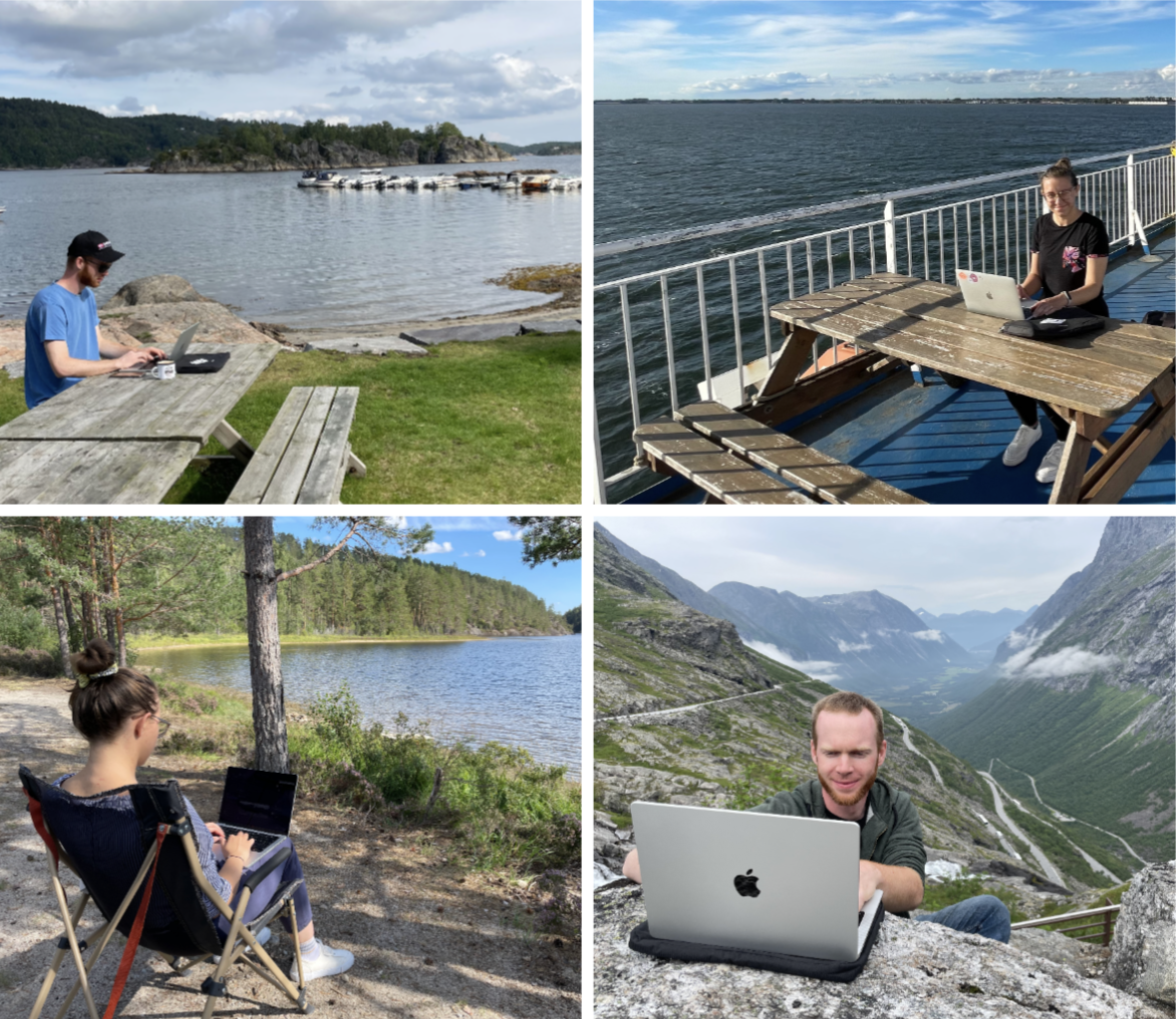 Focus
Nowadays, in the era of remote work, we all struggle with focusing. In our situation, on workation, the tempting possibilities of going for a hike, sightseeing, or just talking to the people in the campervan staying next to ours, are always on our minds. Our solution is always having concrete, planned tasks to do. It's good to use Jira or other project-management software, but even a written To Do list will be helpful. Additionally, we often use the pomodoro technique (in our case the Be Focused app), so it motivates us and protects from being distracted. Notifications and unread messages can be a big focus-breaker. In our organization we use Slack, which is a great tool to exchange knowledge and be informed about different things happening in the company, but often we lose focus trying to keep up to date. We wanted to do something about it. We turned the sound off on our notifications and minimized Slack's window when working on a task, so when switching between tabs (which we have to do on a laptop - we don't have any external display…yet), we don't fall into the trap of reading all the new messages. You can check out another idea for regaining your focus in this article.
Small Space
Our van has more or less 11 m2 which includes kitchen cupboards, a cooker, a fridge, a bathroom, a 1.9x1.5m bed and a table, so there is no place for standard office desks, ergonomic chairs or external displays. Conditions like these can affect our spine and posture. Another challenge is when we both have meetings at the same time. Sometimes it's unavoidable and there is no possibility to go to two different rooms. Staying outside is not always an option, due to weather conditions, for example.
To deal with this, we've organized the space to have two seperate comfortable places in the van for working. The driver's and passenger's seats can swivel, and if you add in wooden countertops, we have pretty good places to work. Two more potential workspaces are a bed in the back of the car which we use if we have meetings simultaneously and, of course, foldable chairs in which we can work outside having a nice view. This last option is often presented in Vanlife posts as a default and the best one in such a lifestyle, but let's look at this from a realistic perspective. Of course, it depends on the country we're currently in, but often in the morning it's cold outside, so we prefer to stay warm. When the sun is shining, it gets better, but on-screen visibility becomes quite bad and annoying then, even with our laptops in light mode. Moreover, the foldable chairs are not that comfortable…
But the best way we've found to combat the negative effects of our confined space is simply to take a break every hour and a half to go outside, take a short walk, do some stretching, etc.
Internet Connection
While working remotely, you have to be connected to the Internet, so having access to the Internet all the time on workation, while traveling between countries, is the next challenge. When choosing a place to stay for the night, we need to check if it has a good quality connection, because in the morning, we need to start working. Even if it's the most beautiful spot, but doesn't fulfill this requirement, we need to keep looking for a different one.
To avoid such problems, we buy a local SIM card in the country that we are in at the moment. It ensures the best price and a stable connection. So as not to rely on our phones as a hotspot everyday, we bought a small mobile modem, where we insert the SIM card. To search for adequate "accommodation", we use the park4night app where people often add information about the quality of internet connection.
Electricity & Temperature
Working as a mobile developer requires building an app locally multiple times during a day. This consumes a large amount of the laptop's battery, so it needs to be charged a few times during an 8-hour workday. In the van, we have a solar panel which charges an additional battery, so we can use the standard 230V sockets. It requires staying in the sun to produce the most electricity. If the temperature outside is higher than 24 degrees, then the inside gets really hot. We can sometimes feel like canned sardines (our car has silver varnish, so it's quite an imaginable picture…). A good solution is to stay by the lake, so we can jump in to cool down. But what if there are no reservoirs around? We take a break from our work for the hottest hours, go further so the air condition can help lower the temperature and just finish our tasks in the evening.
What we have already experienced on our workation
Despite all the above, there are situations and lessons learned that easily compensate for the efforts that we had to put in our way of life. Let us recall some examples of things that we have experienced during our journey.
We went for several 15-kilometer long hikes with astonishing views,
We slept by many lakes from which we could admire the sunsets,
We took a bath in a fiord,
We saw the largest glacier in continental Europe,
We spent a pleasant evening at the lake with two young German couples with two cute dogs,
We took a walk in trolls' forest and drove up the serpentine trolls' road,
We fixed our car using only a piece of a wire,
We learned that 'thank you' in Swedish sounds the same as 'yes' in Polish,
We learned that limited amount of internet data can be beneficial and leads to 10 books being read in two months,
We found that the cheapest way to eat lunch or dinner is Sweden is going to Ikea's restaurant,
We proved to ourselves that we don't need spacious interiors, a TV set, a big wardrobe filled with clothes and a well equipped kitchen to live a comfortable and full life.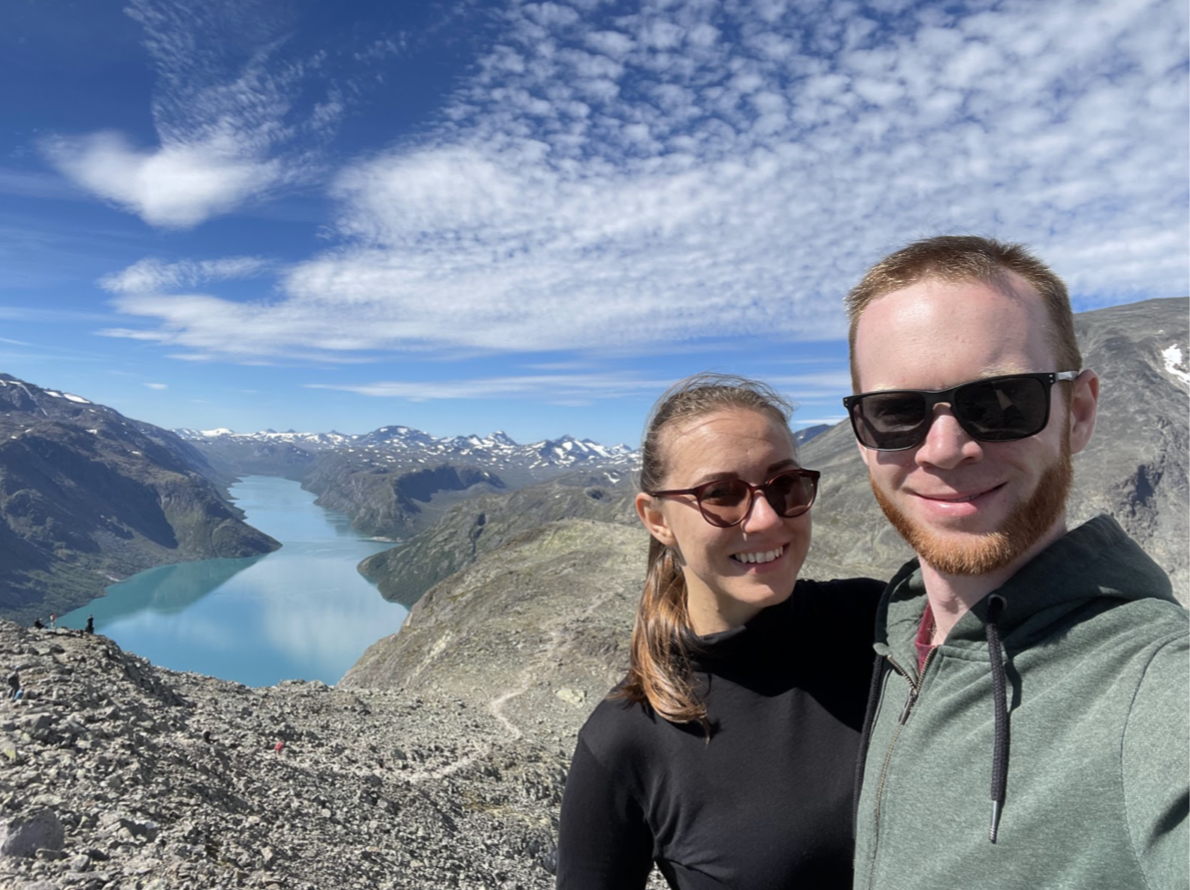 Summary
Vanlife is a great adventure, it opens doors to explore the world while having a full-time job, collecting a big pack of memories, visiting amazing places and making new acquaintances. It also challenges us to get the job done. I hope that the solutions we have shared here can be useful in your everyday life too, even if you don't have a home on wheels. ;) Additionally, we encourage you to try out this way of life, for example by renting a campervan or just organizing a workation in your own way. PS. If you want to follow our journey, check out our Instagram account @lifewvanie.