When it comes to building an app for your business, one of the most critical decisions is choosing the right app development company. They are the ones whose job is to identify your needs, suggest the best tools, and ensure that the process goes smoothly. As you know, this choice is based not only on technological solutions that the company can give, but also on building trust and having a partner that can contribute to your product. When making this decision, one should take a couple of things into consideration, such as:
Portfolio
One of the most important issues when choosing a potential contractor or partner is where you'll find information about the size of projects carried out by a given company. It is worth checking if they have already made applications for brands in your industry. When deciding on the choice of a technical partner, we also recommend downloading the applications of their clients and evaluating their operation and quality. When talking to the selected app development company, it is worth paying attention to what they focus on when talking about their products.
References
Recommendations are the basis for building trust with contractors. Reliable places present your opinion about a software development company, showing you their strengths and weaknesses. If we see that the software house has a problem with timely execution, we must ask ourselves whether we can afford delays in our project. For example, Clutch is a reliable platform for providing and reviewing opinions on cooperation within the IT industry. But we have to keep in mind that what matters is the quality of reviews, not their number. Here we can find truthful opinions of previous clients who partnered with the selected app development company.
Blog
An important tab that professional companies use. This is where we see the company's perspective and know their views and the way of working. Usually, a part of the articles is business-related and this is where we can check whether this partner is a good match for us. In technical texts about application development, we can see which technologies the company works with. It is also worth assessing which topics they write about most often and the main content of their articles.
Design
In the application development process, it is vital to create a flow. Thanks to this, the user will use it intuitively. UX designers' task is to choose the correct order and reaction to individual commands. UX designers choose the best elements to ensure that the workflow of your application will be natural and simple. Thanks to prototyping and other solutions, you can save time and money. Read more about why the issue of good design is essential in application development.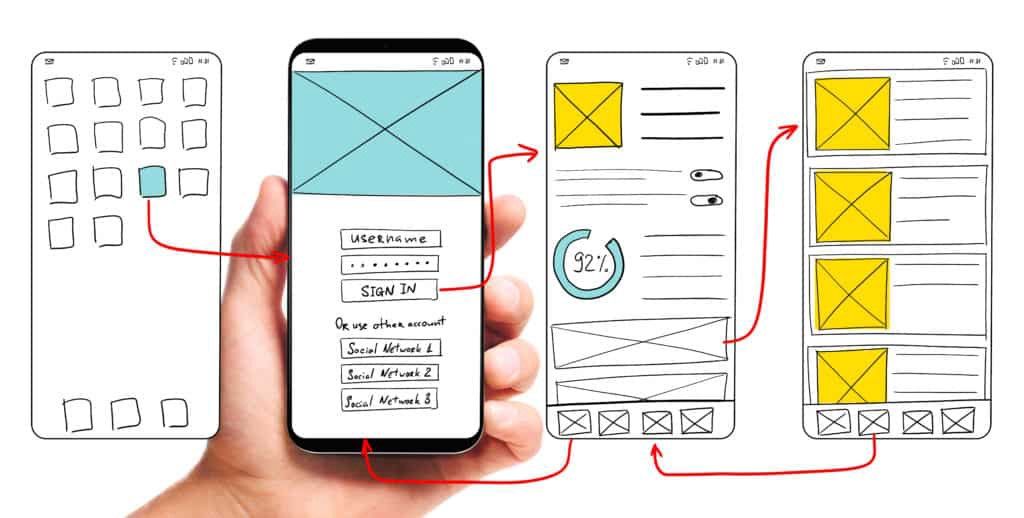 Source: UX Planet
Innovative technologies
Being up-to-date with technologies and how to use them reflects how app development companies approach their projects. If they offer only one technology and it hasn't been changed over the years, it may mean that this software house isn't open to new changes. This old-fashioned way can reflect how the company will treat its client when proposing alternative solutions and solving problems. It's good to have a software partner open to new technologies and innovations. This gives room for companies to argue their choice and explain why it is the best fit for a particular project.
Awards
It shows that the company seeks awards, putting effort into competing and creating the best possible products to be recognized as trustworthy. Obtaining a high-end award denotes high quality. Targeting prestigious awards (such as Forbes, Financial Times, Deloitte) shows that the company is familiar with brands that create quality and is the highest level player.

Communication
It reflects the company (its tone) and shows the approach to a client. The general response indicator and regular activity is an important thing here. You can assess if the language used by the company and its visual identification convinces you to start cooperation. It's the moment when you realize whether you find this app development company a good partner for you.
Summary
As you realize now, choosing the right partner for creating your application is not an easy task. It's not only about the promises and information that the software development company gives you but also about building trust and agreeing with one's vision. The application development process is a long journey; hence you need to make sure to choose an outstanding partner who, besides building an amazing product, will understand your needs and take part in building your product. I hope that this article will help you in making the right decision.